Commercial Air Conditioning Installations
Air Conditioning for Businesses
If you are looking for a specialist air conditioning engineer in the South East of England, you've come to the right place.
Here at Climachill, we are comprised of an expert team of engineers who have been servicing, maintaining and repairing a variety of air conditioning units for a number of years.
Whether you need help with a pre-existing system or would like a new system fitted at your commercial premises, we offer a huge range of services to fix, hone and improve the air conditioning systems at your workplace.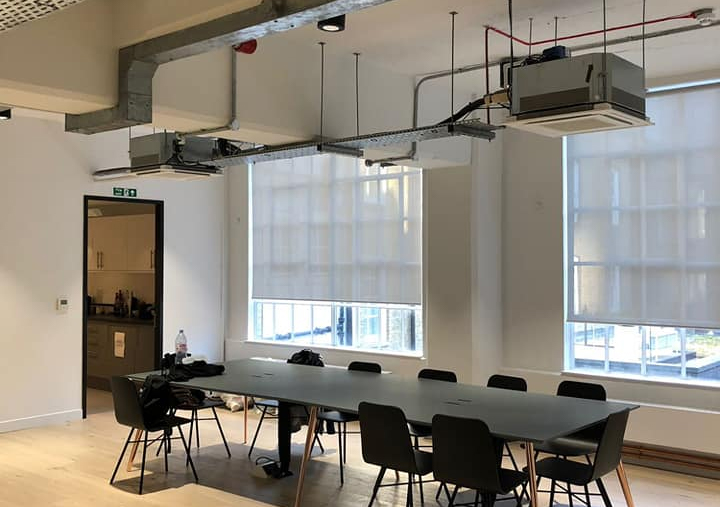 What Type of Air Conditioning System is Right For Your Business?
With such a wide range of air conditioning systems available on the market, we understand how difficult it can be to determine which one is best for your commercial premises.
From wall-mounted to ducted to portable, choosing the right system for you will largely depend on the type of building you are looking to install one in and the space you have available.
Listed below, we have highlighted a few key details on the main types of air conditioning units we typically fit in commercial environments.
Wall Mounted Air Conditioning Units
Commonly used in residential environments, wall mounted air conditioners are a popular choice commercially as well. This is because, generally speaking, they are nearly always the cheapest option to install, they are easy to fit without needing to redecorate, they are sleek in design, and they are exceptionally quiet.
The number of units you need will depend on the size of the room you are trying to cool. Most of the time, a single wall unit will usually be able to cool most rooms. However, for larger rooms, an additional unit may also be required.
Ducted Air Conditioning Units
While a ducted air conditioning unit may be the most expensive type of air conditioning system to install, they are certainly the most aesthetically pleasing solution and can be used to cool multiple rooms.
As their name suggests, these systems are fitted using ductwork and a cooling unit which are both hidden away within a false ceiling or loft space. This, in turn, means that all you will see is a small neat grille in the ceiling.
Low Wall-Mounted Air Conditioners
In a similar way to wall mounted air conditioning units, these systems are simply positioned at a lower level on the wall and almost mimic the look of a radiator, situated out of the line of sight.
However, despite their relatively simple installation, they do tend to be a little more expensive to purchase and install up front than wall mounted units.
How much does air conditioning cost for offices?

If you are looking to install an air conditioning system in an office, the total expenditure and running costs will vary depending on a number of factors – from the type of system you choose to install to the total number of units you have. To receive a personalised quote for your office, contact our team at your earliest convenience and we'd be happy to help.

Are air conditioning units bad for health?

There is a common misinterpretation that air conditioning units can be bad for your health. However, this is not the case – in fact, when correctly serviced, maintained and looked after, air conditioning systems can actually benefit the health of workers in a wide range of commercial environments.
What our customers say
Customer Reviews
We would like to thank your company for the reliable service provided with our air conditioning systems over the last few years. The original purchase was handled smoothly and you have always been most accommodating whenever we have needed further assistance. During our recent renovation, your company was easy to contact, quick to respond and most helpful in relocating the equipment.
After contacting several Air Conditioning Suppliers who failed to turn up, I managed to locate Climachill who carried out a site survey and installed the air conditioning to regulate the temperature in my server room, all within 21 days of the initial contact with minimal disruption. This included the installation of additional electrics to cope with the extra power draw from the 3 air conditioning units and the removal of a double glazed window for the triple extraction system. I have found Climachill's service efficient and professional and have no hesitation in recommending them.
From installation through to ongoing maintenance I have found all at Climachill to be most helpful and efficient in all of my dealings with them. We have had no issues whatsoever with our system that they installed and it has been extremely effective in managing costs both in summer and through the winter whilst keeping us cool and warm respectively.
Climachill fitted full air conditioning to our office premises which is a converted barn in Glynde near Lewes. We received the highest level of service right through from them providing a very competitive quotation through to the complete installation. It has transformed our working environment when we end up with extreme temperatures at either end of the scale and so much so that I have installed an air conditioning system at my own house, again which Climachill have completed to an excellent standard.
Many thanks for carrying out such a quick and professional job here last week, we are pleased that we chose Climachill over the competition for our air-conditioning installation.  As for your competitors, we chose Climachill not only because, on a like for like basis (5&7kw units) you were cheaper but because you came across as the most professional  when you visited us initially to make the site survey and discuss our requirements.
Read all our testimonials here
sohiu9deheeeidiosap[98eiudjkqpwsol;;KLALAP:KSNmdl;se0e0-