Servicing, Breakdowns & Repairs
Climachill offer a full range of aftersales service for Installed Systems even if we didn't originally supply the system. Our engineers are qualified to undertake planned servicing, to attend breakdowns and carry out repairs to any of the major brand air conditioning systems.
Servicing is important for an Air Conditioning System as it reduces running costs, ensures that systems are operating at optimum efficiency and dramatically reduces the likelihood of a breakdown, leading to inconvenience and potentially expensive repairs. On a service visit we check refrigerant levels, electrical connections, clean the filters, clean & sanitise the indoor evaporator, clean the outdoor condenser and check that the system is running correctly.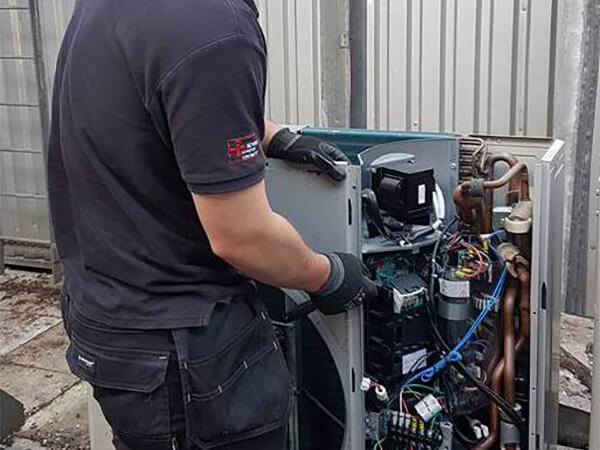 Reliability
Breakdowns do occur but when it happens you want to be sure that you call a company whom is going to be able to diagnose the fault quickly so that the required new part can be ordered & fitted to get your system working again as quickly as possible. Our service engineers carry the latest in diagnostic tools to ensure a quick diagnosis & we have accounts with all of the major Air Conditioning suppliers ensuring a quick ordering process of any required spare parts ensuring the quickest possible repair to your system.
It is now a legal requirement that any person installing or maintaining an air conditioning system is a qualified FGAS Engineer, Climachill engineers are Category 1 Qualified FGAS Engineers (the highest level of qualification). This permits us to work on any air conditioning system and provides assurance to clients that the engineers installing or maintaining their system have been adequately trained and are suitably qualified.
For a FREE no obligation quotation please call us on 01273 803820
What our customers say
Customer Reviews
We would like to thank your company for the reliable service provided with our air conditioning systems over the last few years. The original purchase was handled smoothly and you have always been most accommodating whenever we have needed further assistance. During our recent renovation, your company was easy to contact, quick to respond and most helpful in relocating the equipment.
After contacting several Air Conditioning Suppliers who failed to turn up, I managed to locate Climachill who carried out a site survey and installed the air conditioning to regulate the temperature in my server room, all within 21 days of the initial contact with minimal disruption. This included the installation of additional electrics to cope with the extra power draw from the 3 air conditioning units and the removal of a double glazed window for the triple extraction system. I have found Climachill's service efficient and professional and have no hesitation in recommending them.
From installation through to ongoing maintenance I have found all at Climachill to be most helpful and efficient in all of my dealings with them. We have had no issues whatsoever with our system that they installed and it has been extremely effective in managing costs both in summer and through the winter whilst keeping us cool and warm respectively.
Climachill fitted full air conditioning to our office premises which is a converted barn in Glynde near Lewes. We received the highest level of service right through from them providing a very competitive quotation through to the complete installation. It has transformed our working environment when we end up with extreme temperatures at either end of the scale and so much so that I have installed an air conditioning system at my own house, again which Climachill have completed to an excellent standard.
Many thanks for carrying out such a quick and professional job here last week, we are pleased that we chose Climachill over the competition for our air-conditioning installation.  As for your competitors, we chose Climachill not only because, on a like for like basis (5&7kw units) you were cheaper but because you came across as the most professional  when you visited us initially to make the site survey and discuss our requirements.
Read all our testimonials here