Sale!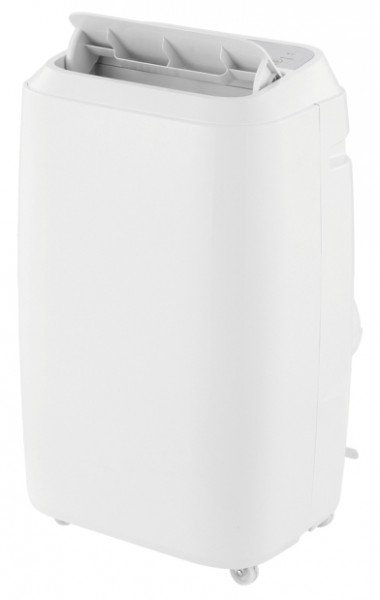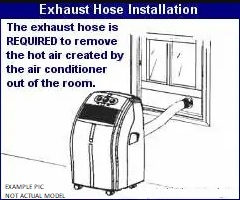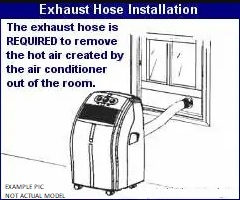 PAC18L – 18000 BTU Portable Air Conditioner (Wifi Control)
In Stock
Order before 1PM for same day dispatch (Mon-Fri)
(inc. VAT at 20%)
Top Features
18,000btu = 5.2kw Cooling Capacity Portable Air Conditioner
Optional 3metre long exhaust hose
Lightweight with Easy Glide Wheels
Ideal for Residential & Commercial Use
Product Information
Description
PAC18L – 18000btu Portable Air Conditioner (Wifi Control)
STOCK STATUS = IN STOCK | ORDER BEFORE 1PM FOR SAME DAY DISPATCH
Autumn 2023 OFFER – £75 discount – Was £625.00+vat – Now £550.00+vat
This is a Premium Quality 18,000btu (5.2kw) Cool & Heat Portable Air Conditioner   This is suitable for a room size of 25-36m2 (270-390sqft)
HOW IT WORKS…
A Portable Air Conditioner works by removing the heat from a room, it then expels this heat out via an exhaust hose, typically this is placed out of an open window or customers can have a 6″ diameter hole drilled in their wall so that the hose can vent out of the hole instead or if you have a suspended ceiling with a large void area you can vent the hot air into this area.  All Portable Air Conditioners work in this way (if it doesn't have an exhaust hose then it's not a Portable Air Conditioner).
WHY IS THIS UNIT BETTER THAN OTHERS?…
RECHI COMPRESSOR
This unit features a Premium Quality RECHI Compressor, RECHI are a top 5 global manufacturer of compressors and is jointly associated with the Sharp (Japan) Corporation, the compressor is the main working part of a unit, don't buy a unit with a cheap compressor – it won't last!
SELF EVAPORATIVE TECHNOLOGY
All Portable Air Conditioners also create water in the way that they work, in some models on the market this water is collected into an internal water tank and when full the customer has to manually empty it, Our New Generation Portable Air Conditioning Units come complete with the latest technological advancement, known as the 'Self Evaporative Water Recycling' which improves the efficiency as it recycles much of the water used in its cooling process. This recycling of water usage reduces fuel costs and power consumption, making it better for the environment to use one of the New Generation portable air conditioners.  This means most of the year you won't have to empty the water tank but on hot humid days please be aware that the unit will create too much water than it can reuse and in this instance the internal tank would fill up and require manual emptying.
HEAT PUMP HEATING
Our units feature HEAT PUMP Heating Technology – standard cheaper portable units use PTC heating which offers almost no heating, our units feature HEAT PUMP Technology which actually means that these units heat extremely well (min room starting temp of 16c)
This unit has an exhaust hose which needs to be vented, please see the installation tab or download the user manual for further information
Please be sure to read through the user manual before purchase Click Here For the User Manual
Product Features
* Rechi Compressor
* Self-evaporative system. The condensing water is recycled to improve efficiency
* Low running noise but a powerful cooling turbo fan feature
* Easily moved via 4 easy glide castors
* Self diagnosis function
* Screen indicating temperature and operation status
* Wind blows omni-directionally
* 3 Speed Control
* Vertical Louver
* Remote Control
* Min Cooling Set Temperature = 16C
* Max Heating Set Temperature = 31C
Installation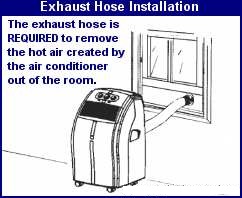 This really is a Plug & Play machine, simply place the unit near a window, attach the exhaust hose to the unit, vent the hose out of the window, plug the machine into a normal electrical socket and turn it on – simple as that!
The exhaust hose supplied with the unit is 1.5metres long, if you need it to be longer we sell an extended hose which can be taped to the end of the original hose in order to provide an exhaust hose with a total length of approx 3metres (you can't have a longer hose than this & this is the maximum permissible length).
Technical Specifications
Rechi Compressor
18000 BTU (5.2 Kw) Heating & Cooling
Timer Facility
2.4L/H evaporative dehumidifier
Adjustable thermostat
Loss of power protection and on-board memory
3 speed fan with oscillating louvres
Infra-Red Remote Control: Yes
Easy rolling casters for portability
Cooling input 1.8Kw
Heating input 1.95Kw
Air Circulation 680 Cu/m Hr
Noise: High Fan = less than 65db(A) / Low Fan = less than 55db(A)
Environmentally friendly R290 Refrigerant
Complete with 1.5 metres exhaust hose and window mounting board (max 3m hose length permitted)
Energy Rating A
UK 13Amp Plug
Exhaust Diameter = 152mm
Exhaust Diameter Max Length = 3metres
Approval Safety Certificate = CE / CB / EMC / LVD / ROHS
Room Temp Operating Range = 16c-31c
Dry Mode Minimum Room Temp = 18c
Min Cooling Set Temperature = 16c
Max Heating Set Temperature = 31c
Applicable Room Area: 25-36m2 (270-390sqft)
Dimensions: (W x D x H)
49.00 x 38.00 x 77.00 cm (net)
Weight: 35.00 kg (net) , 37.00 kg (gross)
Please note that this model is not designed to be used 24/7 or in server /comms rooms environments.  We are unable to offer any warranty should this unit be used in a server / comms room environment.  Please look at the Commercial Range of Broughton Units for this.
Support & Warranty
Warranty
USER MANUAL
The User Manual for this product is available for Download,
Click Here For User Manual
WARRANTY INFO
This unit comes with a fully inclusive 12 months parts & labour warranty, any problems during the first 12months please email us at sales@climachill.co.uk and we will remedy the fault.
Please keep the packaging for this period – its specifically designed for the machine, if during the first 12 months your unit needs to be returned to us for repair then our courier wont insure it on its return journey if its not in the original packaging – as such any damage incurred on its return journey would be liable to you the customer.  Of course you could arrange for it to be shipped with your own courier with your own insurance if you wanted to.
Unlike our competitors, after 12months we will continue to support our customers with spare parts availability, if during years 2 or 3 you suffer a parts breakdown (other than the compressor) then we will ship you the new part needed to fix the machine free of charge.  We have had these machines designed so that they are easy to service, changing parts is a straightforward DIY task which of course we will fully explain what needs to be done.
If your thinking of purchasing from a competitor ask them about spare parts availability (chances are they cant supply them), we hold in our own warehouse spare parts for machines we have been selling for the past 10yrs – this is where Climachill differ from other internet sellers of portable air conditioners –  we are an Air Conditioning Company whom employ Air Conditioning Engineers and hold spare parts if a machine needs them – to our knowledge no-one else offers this!
Do not reduce the diameter of the exhaust, doing so will impede airflow and this can affect the fan motor / drum, doing so will invalidate the warranty.  Only use exhaust hoses purchased from Climachill, they are the correct diameter and have the correct rigidity, using incorrect exhaust hoses not purchased from Climachill will invalidate the warranty term offered.  The maximum permissible length of exhaust hose is 3metres, under no circumstance use a longer length, doing so will invalidate the warranty term offered.
Please note that this model is not designed to be used 24/7 or in server /comms rooms environments.  We are unable to offer any warranty should this unit be used in a server / comms room environment.  Please look at the Commercial Range of Broughton Units for this.
PAC18L – 18000 BTU Portable Air Conditioner (Wifi Control)
Customer Reviews
14 Reviews