Home Air Conditioning Installations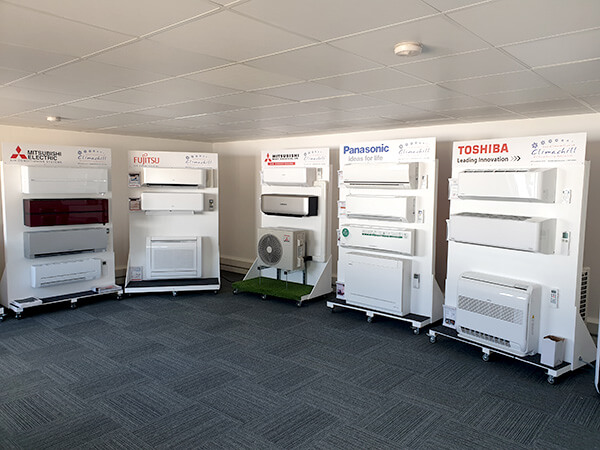 Would you like a new air conditioning system for your home?
We have been installing home air conditioning Systems into peoples homes since 2006, we are experts in our field and Residential Air Conditioning has never been more popular than it is now.
If you are looking to install an energy-efficient, extremely quiet and bespoke-looking air conditioner unit, you've come to the right place.
No matter how big or small your job may be, our team here at Climachill would be happy to provide you with a free survey and quote to ascertain what exactly you are looking for.
Are your air conditioning systems energy efficient?
Air conditioner systems are being seen more and more in UK homes, allowing you to keep comfortable throughout the day while also better able to sleep at night.
Here at Climachill, we have garnered a reputation over the years for installing a wide selection of air conditioning units that are as energy efficient as they are whisper quiet.
Most of the systems we stock and install feature energy efficiency ratings of A++ or higher, enabling homeowners throughout the country to keep their energy bills down while remaining cool and comfortable at home.
Air Conditioners for Room Types
With nearly two decades' worth of experience to our name, we have helped a huge number of clients throughout Sussex and the rest of the South East with a variety of air conditioning-related services.
From complex installations to regular maintenance requests, we fit our air conditioning units in both commercial and residential properties, working around your requirements to ensure you can keep cool in the rooms you need it most. The main rooms we generally install these units in are listed below:
Bedrooms. We can help guarantee a good night's sleep by installing an air conditioning unit in as many bedrooms around the house as you would like.
Living Rooms. Whether it be hosting an event or chilling out in front of the TV, our air conditioning units can help create a comfortable atmosphere within your home.
Kitchens. Keep cool, calm and collected while preparing food in the kitchen by allowing us Conservatories. Rather than allowing your conservatory to turn into a sauna, ensure it maintains a cool atmosphere with one of our air conditioning units.
Log Cabins. Create a relaxing place to sit and enjoy your garden by installing a highly efficient air conditioning unit in your outside log cabin.
What Type of Air Conditioning System is Right For Your Home?
With such a wide range of air conditioning systems to choose from, we understand all too well just how difficult it can be to decide which type is right for you.
For further advice on how to choose your ideal air conditioning setup, please do not hesitate to contact our team at your earliest convenience. Read on below to find out more about the various types currently available on the market.
Wall Mounted Air Conditioning Units
A popular choice for both commercial and residential use, wall mounted air conditioners are nearly always the cheapest option to install. They are also incredibly quiet and easy to fit, largely thanks to their sleek design.
Ducted Air Conditioning Units
As their name suggests, ducted air conditioners are hidden systems often fitted within a false ceiling or loft space. As such, this enables you to keep using your space as desired without needing to worry about a larger air conditioning unit taking up any room on the wall.
Low Wall-Mounted Air Conditioners
These air conditioners mimic the look of a radiator and are typically positioned lower down on the wall to free up more space and keep more out of sight. They do, however, tend to be more expensive than the alternative options, despite the easier installation process.
Common Questions about Home Air Conditioning Systems
How much does home air conditioning cost?
This question is difficult to answer as it really depends on how much you use it. However, each of our air conditioning units are designed to be extremely economical, helping save you a fortune on your monthly energy bills.
Are air conditioners bad for your health?
No – when looked after correctly and maintained on a regular basis, air conditioning units can actually improve your health, by helping to create a more relaxing and stress-free environment to live in.
What our customers say
Customer Reviews
We would like to thank your company for the reliable service provided with our air conditioning systems over the last few years. The original purchase was handled smoothly and you have always been most accommodating whenever we have needed further assistance. During our recent renovation, your company was easy to contact, quick to respond and most helpful in relocating the equipment.
After contacting several Air Conditioning Suppliers who failed to turn up, I managed to locate Climachill who carried out a site survey and installed the air conditioning to regulate the temperature in my server room, all within 21 days of the initial contact with minimal disruption. This included the installation of additional electrics to cope with the extra power draw from the 3 air conditioning units and the removal of a double glazed window for the triple extraction system. I have found Climachill's service efficient and professional and have no hesitation in recommending them.
From installation through to ongoing maintenance I have found all at Climachill to be most helpful and efficient in all of my dealings with them. We have had no issues whatsoever with our system that they installed and it has been extremely effective in managing costs both in summer and through the winter whilst keeping us cool and warm respectively.
Climachill fitted full air conditioning to our office premises which is a converted barn in Glynde near Lewes. We received the highest level of service right through from them providing a very competitive quotation through to the complete installation. It has transformed our working environment when we end up with extreme temperatures at either end of the scale and so much so that I have installed an air conditioning system at my own house, again which Climachill have completed to an excellent standard.
Many thanks for carrying out such a quick and professional job here last week, we are pleased that we chose Climachill over the competition for our air-conditioning installation.  As for your competitors, we chose Climachill not only because, on a like for like basis (5&7kw units) you were cheaper but because you came across as the most professional  when you visited us initially to make the site survey and discuss our requirements.
Read all our testimonials here