Residential Installations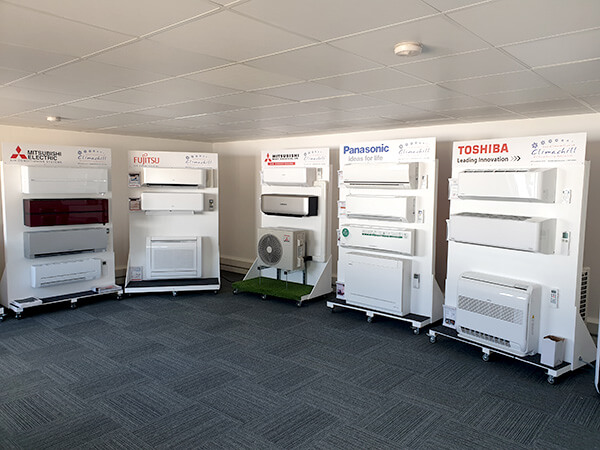 We have been Installing Air Conditioning Systems into peoples homes since 2006, we are experts in our field and Residential Air Conditioning has never been more popular than it is now.
We install Cooling & Heating systems into bedrooms, living rooms, open plan kitchen/dining rooms as well as Garden Office Buildings / Log Cabins.  Some of our customers have every room within their house Cooled & Heated using Air Conditioning Systems.  Being Air 2 Air Heat Pumps, they will offer you year round Climate Control, so Cooling in the Summer & Heating in the Winter all from 1x system.
We have accounts with all of the major manufacturers so can recommend a system that suits your needs (we dont just quote the 1x same model to all customers like some of our competitors).  All systems we offer provide cooling and heating, some will offer air purification at the same time, others will have Wifi Control built in as standard (Wifi Control allows you to control the system from an App on your phone / tablet).  When we carry out a site survey to discuss your requirements we will listen to your needs and then give recommendations on different systems that suit your needs with different price points, we know some customers just want a standard system at the cheaper range of the market whereas others will want a designer looking system with Wifi control and built in Air purification at the higher price points.  We will recommend a system that suits your needs and your budget.
In 2018 we built a dedicated Showroom to show current models available from various manufacturers.  We know that if you are thinking of investing in an Air Conditioning System its nice to see what you are buying, nice to be able to physically touch it, nice to see its size and nice to see the colours available.  You get all of this from Climachill.
You may also have queries concerning noise levels of the indoor & outdoor unit, in our showroom we have working systems, you can turn some systems on, listen to the noise levels & feel the performance.  Its also an opportunity to see some of the designer models available, you may have decided you were happy with a standard range system but its quite often the case that customers will choose a designer system once they have seen it in our Showroom.
Visits to our Showroom are by appointment only to ensure we have a sales engineer here who can discuss the systems with you, to book a visit please email us at sales@climachill.co.uk 
We have many Residential Case Studies that you can see and also offer 0% finance on certain models, take a look through our website and if you would like a free no obligation quotation please contact us at sales@climachill.co.uk
What our customers say
Customer Reviews
We would like to thank your company for the reliable service provided with our air conditioning systems over the last few years. The original purchase was handled smoothly and you have always been most accommodating whenever we have needed further assistance. During our recent renovation, your company was easy to contact, quick to respond and most helpful in relocating the equipment.
After contacting several Air Conditioning Suppliers who failed to turn up, I managed to locate Climachill who carried out a site survey and installed the air conditioning to regulate the temperature in my server room, all within 21 days of the initial contact with minimal disruption. This included the installation of additional electrics to cope with the extra power draw from the 3 air conditioning units and the removal of a double glazed window for the triple extraction system. I have found Climachill's service efficient and professional and have no hesitation in recommending them.
From installation through to ongoing maintenance I have found all at Climachill to be most helpful and efficient in all of my dealings with them. We have had no issues whatsoever with our system that they installed and it has been extremely effective in managing costs both in summer and through the winter whilst keeping us cool and warm respectively.
Climachill fitted full air conditioning to our office premises which is a converted barn in Glynde near Lewes. We received the highest level of service right through from them providing a very competitive quotation through to the complete installation. It has transformed our working environment when we end up with extreme temperatures at either end of the scale and so much so that I have installed an air conditioning system at my own house, again which Climachill have completed to an excellent standard.
Many thanks for carrying out such a quick and professional job here last week, we are pleased that we chose Climachill over the competition for our air-conditioning installation.  As for your competitors, we chose Climachill not only because, on a like for like basis (5&7kw units) you were cheaper but because you came across as the most professional  when you visited us initially to make the site survey and discuss our requirements.
Read all our testimonials here