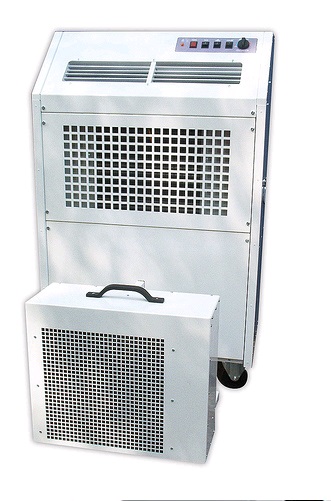 Broughton MCWC250
In Stock
£3,480.00 (inc. VAT at 20%)
Product Information
Description
FREE DELIVERY
This is a 25,000btu (7.3kw) Broughton MCWC250 Industrial Portable Air Conditioner.
This Water Cooled Industrial Air Conditioner from Broughton can be operated from a normal 13A supply, it offers 25,000btu's (7.3kw) of cooling capacity, is very quiet and consists of 2x parts. The indoor part goes in the room you wish to cool and the outdoor part can be mounted up to a maximum of 35 metres away, they are connected by flexible lines & this is an ideal option if its not possible to vent the hot air created from the other Broughton products away the room as this machine allows the heat to be removed from the outdoor unit – thus no heat comes off the indoor unit. The flexible lines come with 'quick couplers' allowing you to easily extend the lines up to the maximum length.
Broughton Electro-Air Products have a wealth of experience in designing & manufacturing Industrial Portable Air Conditioners (over 30 years), they are a British manufacturer and make their products here in the UK – British Built = Built To Last – evident in the 2 years warranty provided with every Broughton Industrial Portable Air Conditioner
The MCWC250 is part of the 'Mighty Cool' range offered from Broughton, it is well built and designed for industrial use, these are particularly well suited for indutrial areas such as spot cooling in a warehouse / factory and for server room environments.
Please check stock status with us prior to ordering
Product Features
13amp supply
Min Cooling Setting = 9C
Water Cooled System
7.3kw / 25,000 Btu Cooling
Max Distance Between Indoor / Outdoor Part = 35metres
Can cool down to 9C
Easy to Use Controls
Installation
This water cooled machine has 2x parts, an indoor unit and an outdoor unit which are connected by flexible lines, these lines can be a maximum distance of 35metres long.
Technical Specifications
Manufacturer Broughton
Model MCWC250
Refrigerant Green R422d
Rating 7.3Kw, 25,000 Btu
Portability Fully portable locking castors
Air Flow 1450 Cubic Meters per Hours
Running Current (Amps) 11
Noise 58.4dbA
Weight (Kg) 130
Dimensions (HxWxD) 1350x820x380 mm
Power Supply Standard domestic 13amp, 230v, 50HZ, 1Ph
Warranty 2 Years
This unit come ready to use – with 5metres of lines, additional lines as follows: –
5metres = £275.00+vat
10metres = £350.00+vat
30metres = £650.00+vat
Please contact us if you require a more information
Returns
Broughton are the manufacturer and not a distributor so if your unit becomes faulty a collection will be organised within the warranty period. If a customer has a query with a unit they need to book it in with Broughton's service department on 01527 830616 before returning it.
Broughton MCWC250
Customer Reviews
No reviews yet