Air Conditioning Energy Assessments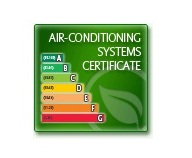 If you control the technical operation of an air conditioning system, are a building manager or owner, you are responsible for obtaining an assessment report, these reports are required : –
– If your system(s) has a combined total of more than 12kw of cooling capacity and are older than 5 years old
– To be renewed every 5 years
– To be carried out by an accredited Air conditioning Energy Assessor. Accreditation ensures that the Assessors are professional, competent and adequately insured for the work.
What does the Air Conditioning Inspection report cover?
The purpose of the AC Inspection is to ensure that building owners and managers are given basic information regarding the efficiency of the air-conditioning systems they control.
You will receive a report from the assessment which includes recommendations for steps you could take to improve the efficiency of your system. These may range from improvements to the maintenance regime, through changes to the way the system is operated, to recommendations on the specification of a new or replacement system. The report will be carried out in line with CIBSE TM44 publication.
Acting on the advice in the AC Inspection report and rectifying faults or making appropriate improvements, where this is cost effective, should result in immediate improvements to the effectiveness of air – conditioning systems or reduce operating costs. It could also improve the energy ratings for the building, as calculated for an Energy Performance Certificate (EPC) or Display Energy Certificate (DEC).
In certain cases inspections will understand that the AC system is being run well, all documents are in place, with records available showing that the AC equipment has been regularly maintained to a good standard. In these cases the main content may be advising on load reduction or on alternative solutions not previously considered. The AC Report will suggest relatively basic maintenance, such as cleaning and repairs, to AC equipment whose efficiency has suffered through neglect.
Who is Policing this legislation?
Portfolio and building owners need to be aware that the lack of a certificate may lead to
a fine and Solicitors will start to ask for certification upon building transactions taking
place. Building audits will also highlight lack of certification.
Local Authority trading standards officers have the power to check certification and issue fines for non-compliance, with additional fines for continued non-compliance. It should also be noted that as from April 2012 the lodgement of reports to a centralised registry will be mandatory, at this stage it is anticipated that compliance will be more strictly monitored and therefore enforced.
What if I do not have the Budget to implement the report recommendations?
The legislation requires that these reports are carried out on a 5 yearly basis, however the findings of the report do not legally require action, and the implementation of any recommendations made is at the discretion of the building owner/manager.
The scope of the report, where possible is to highlight simple low cost measures that will maximise efficiency of existing HVAC systems. Although outdated and inefficient equipment will be identified and efficiency will usually be improved by replacing these systems you do not have to take this advice.
Why use our Assessors?
Our assessors are fully accredited by CIBSE and Sterling Accreditation Schemes and to date have completed hundreds of inspections on a diverse range of buildings, from large office blocks, hospitals and hotels to small coffee shops and restaurants. Our assessors have highlighted thousands of £s of energy saving measures and methods of carbon reductions.
You will be provided with a professional value for money customer friendly report enabling you to make an informed and pragmatic decision about your air conditioning operation and energy usage. Our Inspectors are courteous and polite and will respect your staff and customers at all times with minimum disruption to your operations.
Our assessors have completed contracts for many prestigious customers including:
Q.A Hospital Portsmouth – Whitttington Hospital North London – South Hants Hospitals –
London Chest Hospital – Coventry Building Societies Branches – Costa Coffee Branches –
KFC Branches – Beefeaters – Brewers Fayres – Premier Inns – Millennium Copthorne
Hotels London – Zara Clothes Stores – Warwickshire Schools and Colleges – PWC offices –
BA Systems Portsmouth – Carrier Air Conditioning, Samworth Brothers – Rydon
Maintenance – Skanska facilities management – Haringey Council and many many more.
If you require our services please call us on 01273 803820
What our customers say
Customer Reviews
We would like to thank your company for the reliable service provided with our air conditioning systems over the last few years. The original purchase was handled smoothly and you have always been most accommodating whenever we have needed further assistance. During our recent renovation, your company was easy to contact, quick to respond and most helpful in relocating the equipment.
After contacting several Air Conditioning Suppliers who failed to turn up, I managed to locate Climachill who carried out a site survey and installed the air conditioning to regulate the temperature in my server room, all within 21 days of the initial contact with minimal disruption. This included the installation of additional electrics to cope with the extra power draw from the 3 air conditioning units and the removal of a double glazed window for the triple extraction system. I have found Climachill's service efficient and professional and have no hesitation in recommending them.
From installation through to ongoing maintenance I have found all at Climachill to be most helpful and efficient in all of my dealings with them. We have had no issues whatsoever with our system that they installed and it has been extremely effective in managing costs both in summer and through the winter whilst keeping us cool and warm respectively.
Climachill fitted full air conditioning to our office premises which is a converted barn in Glynde near Lewes. We received the highest level of service right through from them providing a very competitive quotation through to the complete installation. It has transformed our working environment when we end up with extreme temperatures at either end of the scale and so much so that I have installed an air conditioning system at my own house, again which Climachill have completed to an excellent standard.
Many thanks for carrying out such a quick and professional job here last week, we are pleased that we chose Climachill over the competition for our air-conditioning installation.  As for your competitors, we chose Climachill not only because, on a like for like basis (5&7kw units) you were cheaper but because you came across as the most professional  when you visited us initially to make the site survey and discuss our requirements.
Read all our testimonials here