What Temperature Should I Set My Air Conditioning/Heater To?
It's one of the age-old dilemmas anyone with air conditioning has: which temperature do we set the thermostat to? From the moment the outside temperature starts to rise, we turn on our air conditioning to give us some sweet relief from the heat.
But what's comfortable for one person can be freezing for another. Everyone is different but from our experience 22°C for either cooling or heating modes is the consensus norm. There is no one correct answer, instead, it's best to consider everyone and find a balance between those who like it cooler and those who want some extra warmth.
What is the best temperature for home air conditioning?
When setting the temperature for your residential air conditioning, the only people you have to consider are your family. This allows you to experiment with different settings to find the perfect balance between comfortably cool and energy savings.
Other factors to consider include the number of people who live in your home, how much physical activity you do there and the level of direct sunlight flooding in. These factors may contribute to you needing to drop the temperature a degree or two cooler than the average 22°C. Ultimately, what you and your family decide is comfortable for you is the most important thing.
What should you set your office air conditioning too?
With more people typically in an office than your home, it's more important to find a temperature that is comfortable for everyone as quickly as possible. Trial and error are great ways to figure out what works for your employees when it comes to commercial air conditioning.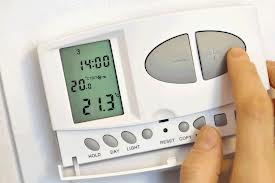 In the summer, start at the recommended 22°C and then raise the temperature by a degree each time until your staff feel it is getting too warm. You can save up to 5% on your energy bill per degree warmer
during the summer, so it can make a significant difference to find an agreeable temperature above 22°C.
But there will be differences of opinion in the office, and in our experience, we have found that men prefer it to be cooler than women. Although other factors that contribute to how cool a person likes it includes their age, weight and metabolic rate.
What is the best air conditioning temperature for summer?
The temptation when the sun comes out is to turn the air conditioning way down to 18°C or even cooler. This is typically in response to your home or office becoming too warm or stuffy, and an extreme effort is required to bring the temperature down.
The best approach for air conditioning in the summer is to keep it on and at a consistent level for longer. Reducing the periods where the unit is providing cool air is more energy-efficient than having hot and cold spells battling against each other. You can test the waters by dropping the thermostat by a degree at a time to see if you can feel the difference and whether it improves your comfort level.
Overnight air conditioning temperature
Many people don't feel like they should use their home air conditioner overnight but it can help you to sleep more comfortably. The cooler your room is at night, the better you will sleep. In a warm room, you toss and turn while flipping the duvet on and off as your body tries its best to regulate its temperature.
Temperatures as low as 19°C are known to be an effective level to set your air conditioner at while you sleep. Consider adjusting or setting your air conditioning system to reduce the temperature overnight. However, if you have infants and children at home then they need their rooms to be warmer at night to ensure more restful sleep.
Use air conditioning when you aren't there
Whenever you leave the premises you may be tempted to simply turn off the air conditioner and leave it to work its magic when you come back. It can actually be more energy efficient to leave your unit on at a slightly higher temperature than normal rather than turning it off completely.
By providing a level of climate control to your office, building or home while you aren't there your air conditioner or heater doesn't work overtime upon your return to restore a comfortable temperature.
An air conditioning unit has to work harder to change a room's temperature by several degrees rather than just one or two. This method can restore your rooms and buildings to a more comfortable temperature sooner than switching the unit off entirely while unoccupied.
Regular servicing and maintenance
In terms of energy efficiency, air conditioning units must be given regular services and maintenance. From reducing the build-up of mould and bacteria to ensuring airflow is running effectively, our expert engineers are qualified to fully service all of our installed systems.
For improved reliability and energy efficiency, we recommend our after-sales service which extends to all major brand air conditioning systems. Get in touch with a member of our team to see how we can help with your air conditioning needs today.
What our customers say
Customer Reviews
We would like to thank your company for the reliable service provided with our air conditioning systems over the last few years. The original purchase was handled smoothly and you have always been most accommodating whenever we have needed further assistance. During our recent renovation, your company was easy to contact, quick to respond and most helpful in relocating the equipment.
After contacting several Air Conditioning Suppliers who failed to turn up, I managed to locate Climachill who carried out a site survey and installed the air conditioning to regulate the temperature in my server room, all within 21 days of the initial contact with minimal disruption. This included the installation of additional electrics to cope with the extra power draw from the 3 air conditioning units and the removal of a double glazed window for the triple extraction system. I have found Climachill's service efficient and professional and have no hesitation in recommending them.
From installation through to ongoing maintenance I have found all at Climachill to be most helpful and efficient in all of my dealings with them. We have had no issues whatsoever with our system that they installed and it has been extremely effective in managing costs both in summer and through the winter whilst keeping us cool and warm respectively.
Climachill fitted full air conditioning to our office premises which is a converted barn in Glynde near Lewes. We received the highest level of service right through from them providing a very competitive quotation through to the complete installation. It has transformed our working environment when we end up with extreme temperatures at either end of the scale and so much so that I have installed an air conditioning system at my own house, again which Climachill have completed to an excellent standard.
Many thanks for carrying out such a quick and professional job here last week, we are pleased that we chose Climachill over the competition for our air-conditioning installation.  As for your competitors, we chose Climachill not only because, on a like for like basis (5&7kw units) you were cheaper but because you came across as the most professional  when you visited us initially to make the site survey and discuss our requirements.
Read all our testimonials here