Trying to prevent Vandalism
If your premises are in a 'high risk' area and you are worried that your air conditioning equipment may be vandalised then we can supply & install Air Conditioning Security Cages in order to try to prevent vandalism.
We were asked by a customer in Croydon to replace 2x Air Conditioning systems which had been vandalised beyond repair, he was concerned that the new equipment would also be vandalised thus we suggested we supply & install Security Cages for the outdoor units.
Air Conditioning units can be vandalised for a number of reasons, the ever increasing scrap price of copper, having a football kicked at one to it being used as target practice for a bb gun, see https://www.facebook.com/photo.php?fbid=704605162886884&l=4643b6e07e
We quoted 2x Mitsubishi Heavy Industries Systems which we can offer with a 5yrs warranty (subject to 6monthly servicing carried out by us)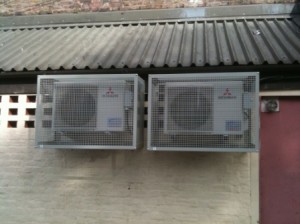 together with Air Conditioning Security Cages for the outdoor units.
Our client was not only impressed with the speed of our quote turnaround but our quote for a premium product with a class leading warranty term was comparable with another quote offering a more budget system with only a 3yrs warranty term.
We carried out the installation together with installing Security Cages for the outdoor units, 3yrs later and the systems look & act as good as new with not a sign of any attempted vandalism.
For a free no obligation quotation contact Climachill on 01273 803820 | sales@climachill.co.uk